IZSVe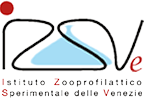 The Istituto Zooprofilattico Sperimentale delle Venezie (IZSVe) is a public veterinary Institute which conducts prevention, control and research activities in three main areas: animal health and welfare, food safety, and environmental protection.
The Institute employs almost 600 people, including veterinarians, biologists, chemists, technicians and administration staff.
The IZSVe was founded on June, 14, 1929 in Padua and it is part of a national network that consists of nine other Italian public veterinary institutes, each of which covers a specific geographical area. Today, the IZSVe is located at Legnaro (PD), in northeast Italy.
Location Description:
Istituto Zooprofilattico Sperimentale delle Venezie - Viale dell'Universita', 10 - 35020 Legnaro